This shop has been compensated by Collective Bias, Inc. and its advertiser. All opinions are mine alone. #SameTasteNewLook #CollectiveBias
It's no secret that I have a sweet tooth. If it is covered in chocolate, it is my jam. Keep reading to see how to make these delicious Chocolate Covered Pie Pops.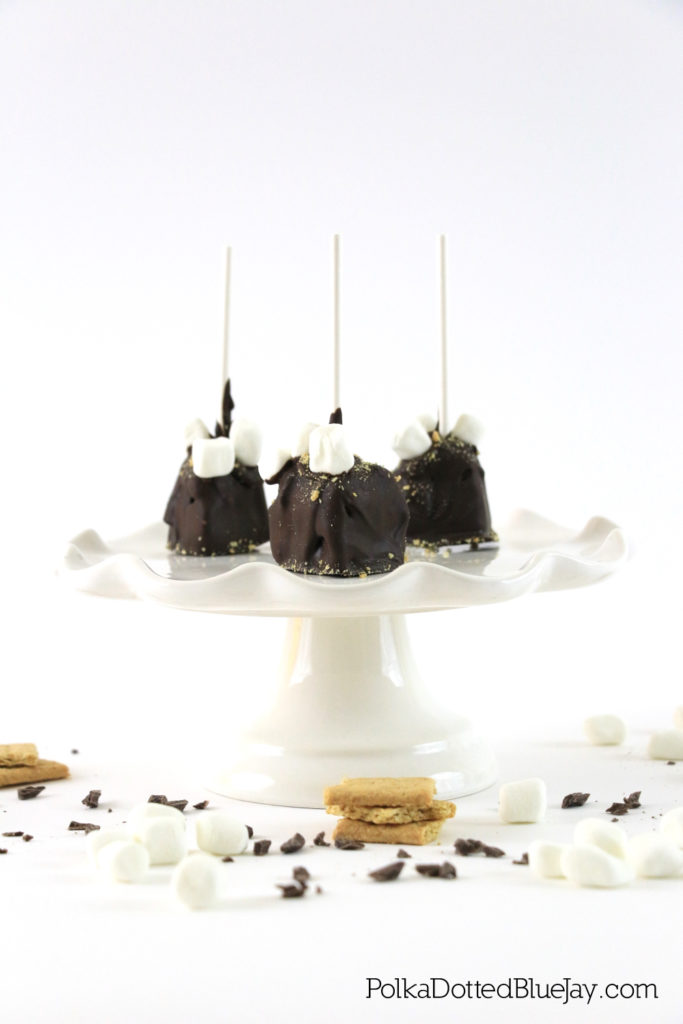 My family loves to go camping. My dad hooks up the trailer, loads my nephews' bikes and off everyone goes to the lake for a week. While I love spending time with my family, I can admit that camping is just not my thing. I'm the girl who wants to know where the bathroom and token-taking shower is and I can only last about 2 days sleeping in a tent. Glamping (camping in a hotel room) is more up my alley and everyone knows it.
There are some things I love about camping that make the experience so much fun and one of those things is making s'mores at night around a campfire. One of the kids will inevitably light a marshmallow on fire but that's part of the fun. The chocolate, marshmallow, cracker combination reminds me of my childhood and I hope the kids remember their crazy aunt who didn't like to camp but could make a mean batch of s'mores.
Lucky for me, I found a way to have the great taste of campfire s'mores without the gooey marshmallows and the smoke that sticks to your clothes for weeks. Edwards Pies are perfect for ANY occasion whether you are celebrating a birthday, work event, graduation or retirement; they now have a S'mores pie and it is delicious.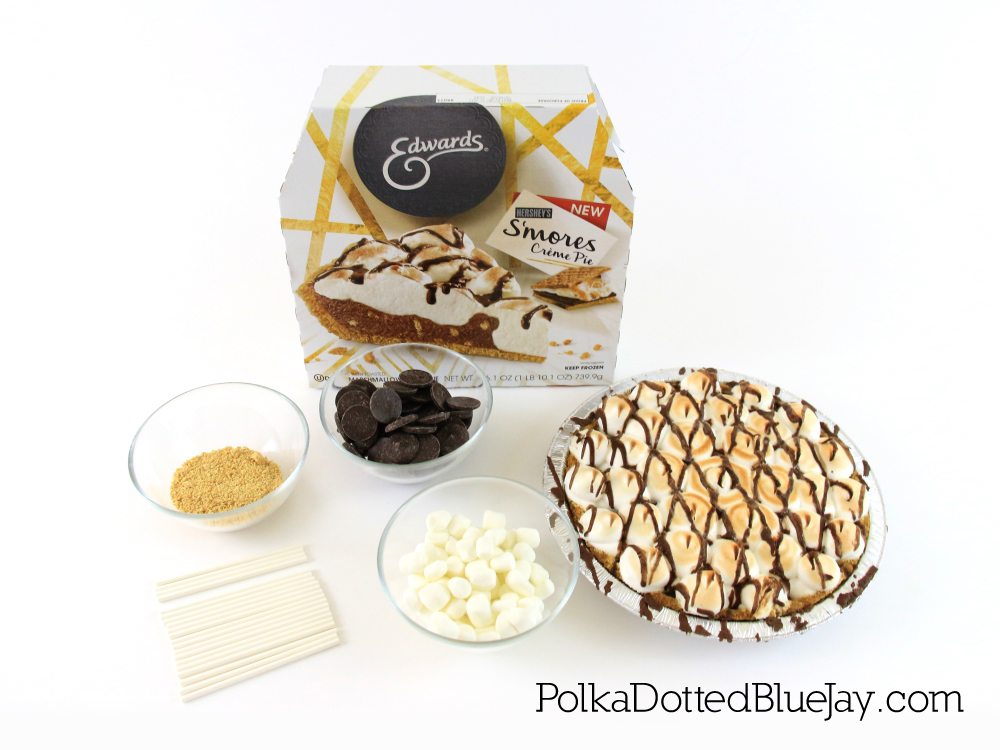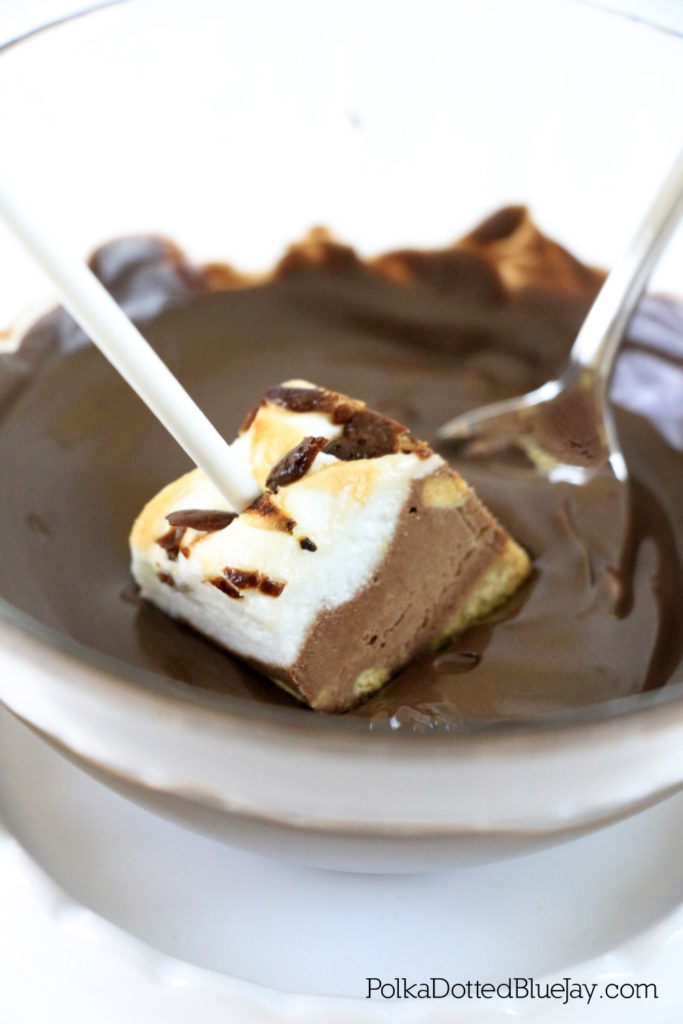 I deconstructed my pie to make Pie Pops and decorated with additional s'mores toppings for good measure. I was able to pick up everything I needed in one trip to Walmart, including all of the garnishing ingredients.
Chocolate Covered Pie Pops
Ingredients
Edwards S'mores Pie
Melting Chocolate
Graham Crackers - finely chopped
Mini Marshmallows
Instructions
Remove your Edwards Pie from the packaging and cut into one inch cubes.
Immediately return to the freezer so the cubes maintain their shape.
Melt chocolate in the microwave according to the instructions until it is nice and smooth.
Pull out the cubes 3 at a time (it helps to work in small batches).
Dip a mini lollipop stick into the melted chocolate and insert into the cube.
Dip the whole cube into the melting chocolate.
Place on a small square of parchment or wax paper.
Cover with graham cracker crumbs and mini marshmallows.
Quicky return to the freezer to harden.
Repeat.
Notes
Home Chef Tip: The pieces from the outer edge of the pie (with the crust) are more difficult to dip in the chocolate.
http://polkadottedbluejay.com/chocolate-covered-pie-pops/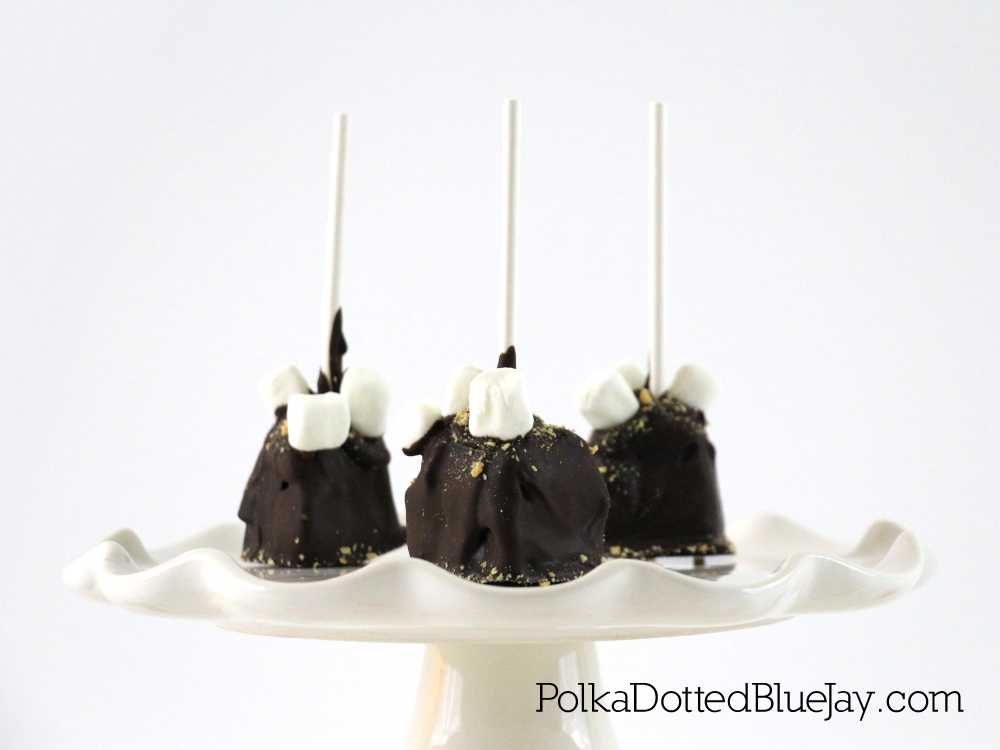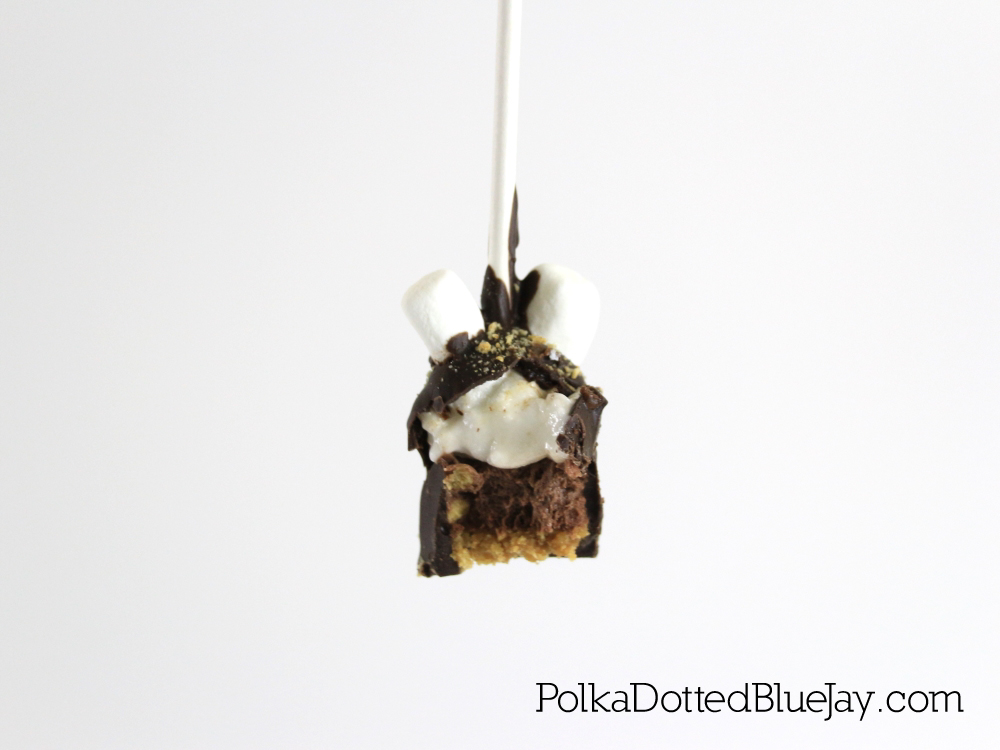 These Pie Pops require you to work quickly, but once you have them dipped and hardened in the freezer, you can set them out for friends to enjoy leisurely.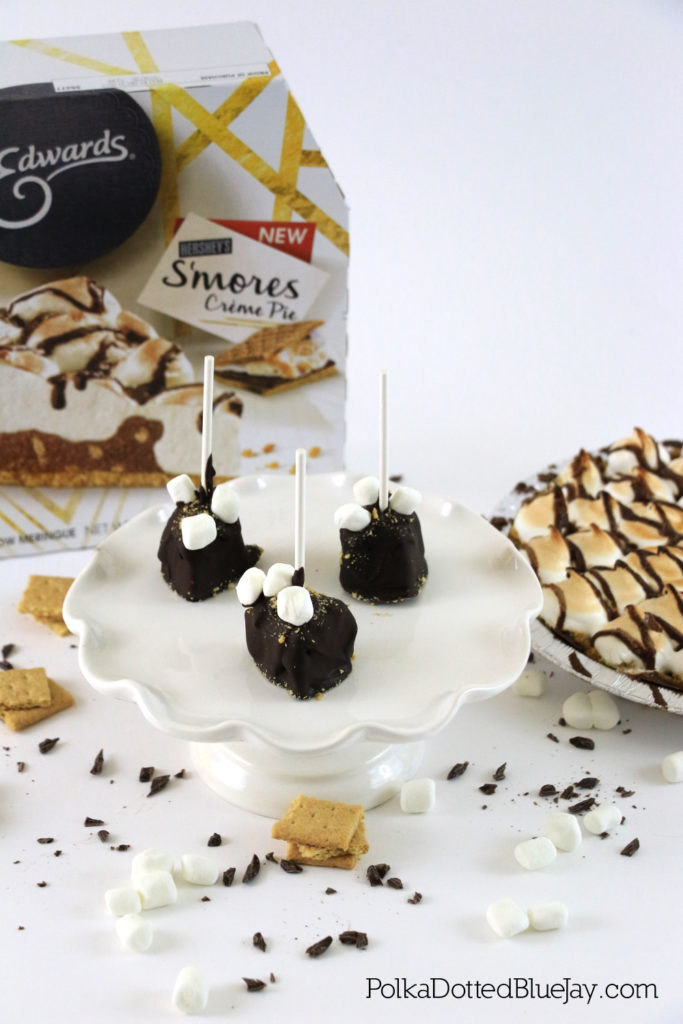 Wouldn't they be adorable for a lumberjack or camping themed party?
I had so much fun making Pie Pops with the Edwards S'mores Pie that I also tried making a cookies and cream one too. It did not disappoint.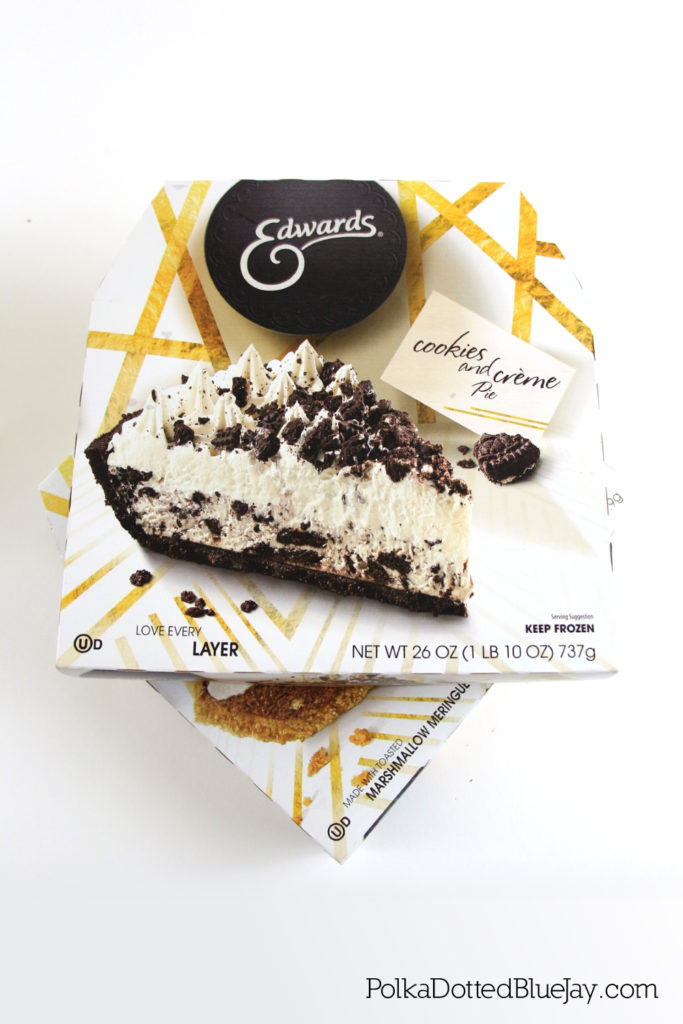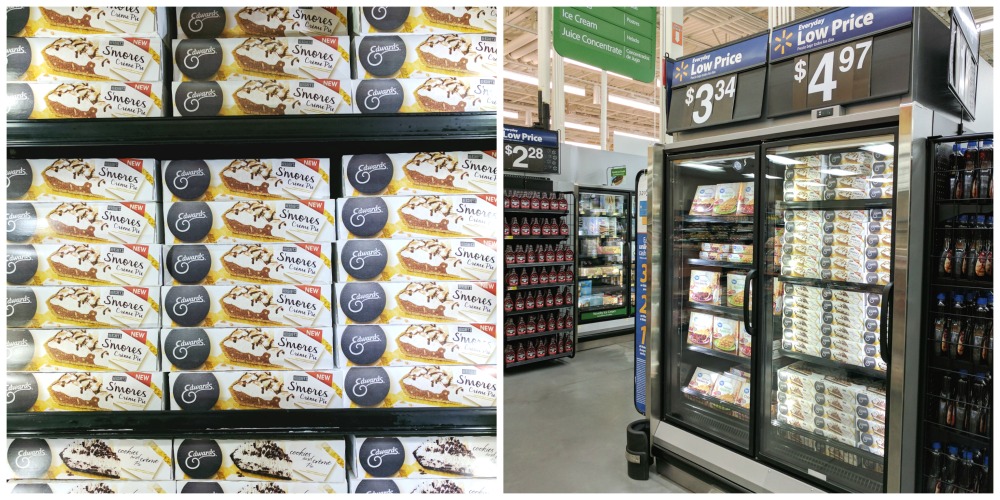 What flavor of Edwards Pies would you use to make your own Chocolate Covered Pie Pops? Tell me in the comments and enjoy.
Please follow and like us: