This shop has been compensated by Collective Bias, INC. and The Coca-Cola Company, all opinions are mine alone. #GrabSomeCheer #CollectiveBias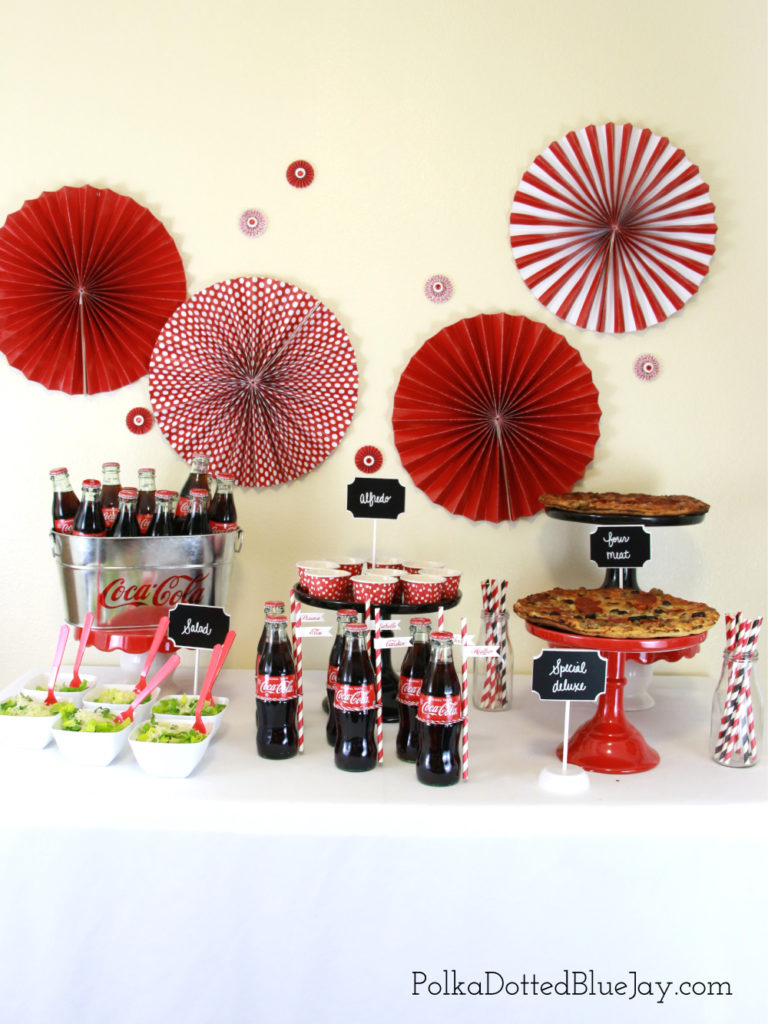 One of my favorite holiday traditions is spending one day wrapping all my presents. It is no secret that I love wrapping presents, drinking hot cocoa, and covering my house with glitter. This year I thought it would be fun to invite some friends and family over, eat some pizza, and wrap all our presents in one evening together. Bring on the ribbon!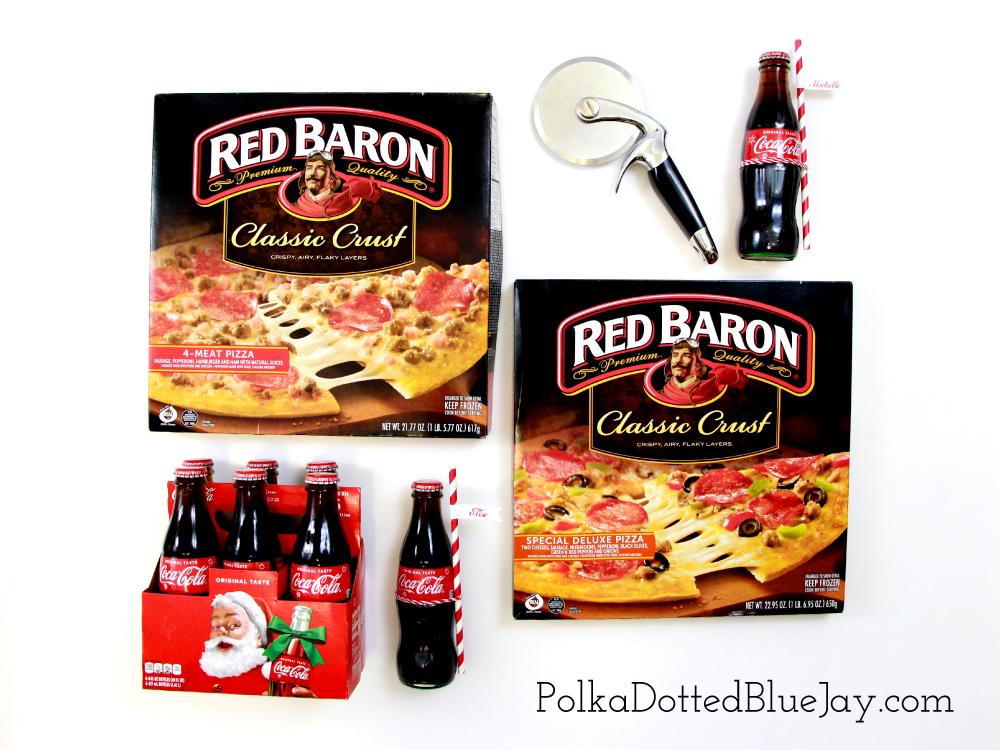 I grabbed some glass Coca-Cola™ bottles (I love the retro feel) while I was at Vons picking up the Red Baron pizzas; I don't know about you, but I think pizza and Coca-Cola are a perfect match. I was so excited to receive a $5 Catalina Coupon (it printed with my receipt during checkout) for Fandango because I spent over $10 on qualifying products in one transaction. It can be redeemed on the Fandango website (Offer End Date: 12/31/17). I will be saving that for a date night when the baby is a little older.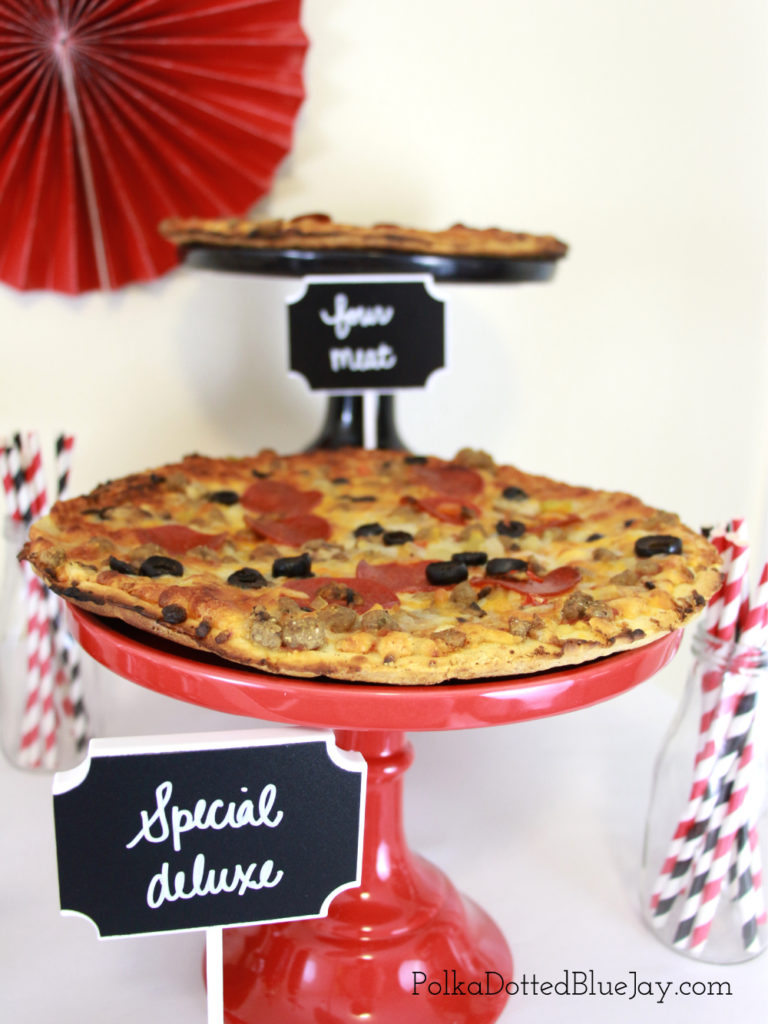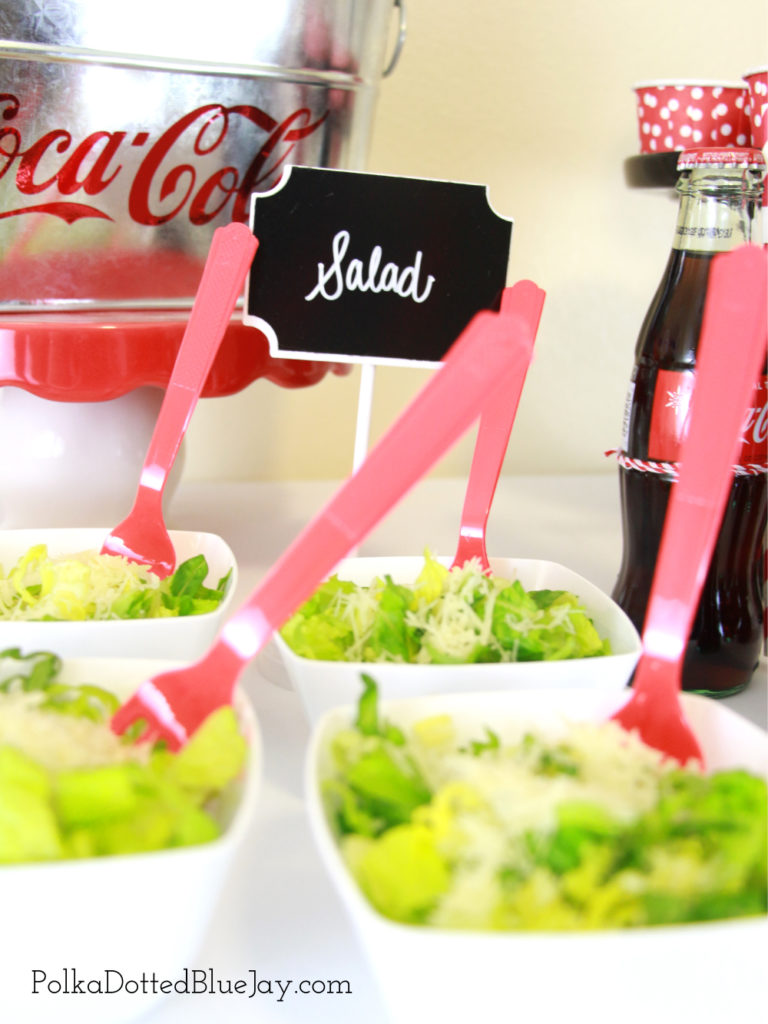 Pizza is my favorite go-to food for social gatherings or easy meals at home; being able to pop them in the oven for 15-20 minutes and have dinner ready to go is a must – especially with the addition of Jedidiah to our family. I also like to offer a simple green salad as an option to eat with the pizza. I just chop up some romaine lettuce and top with grated parmesan cheese.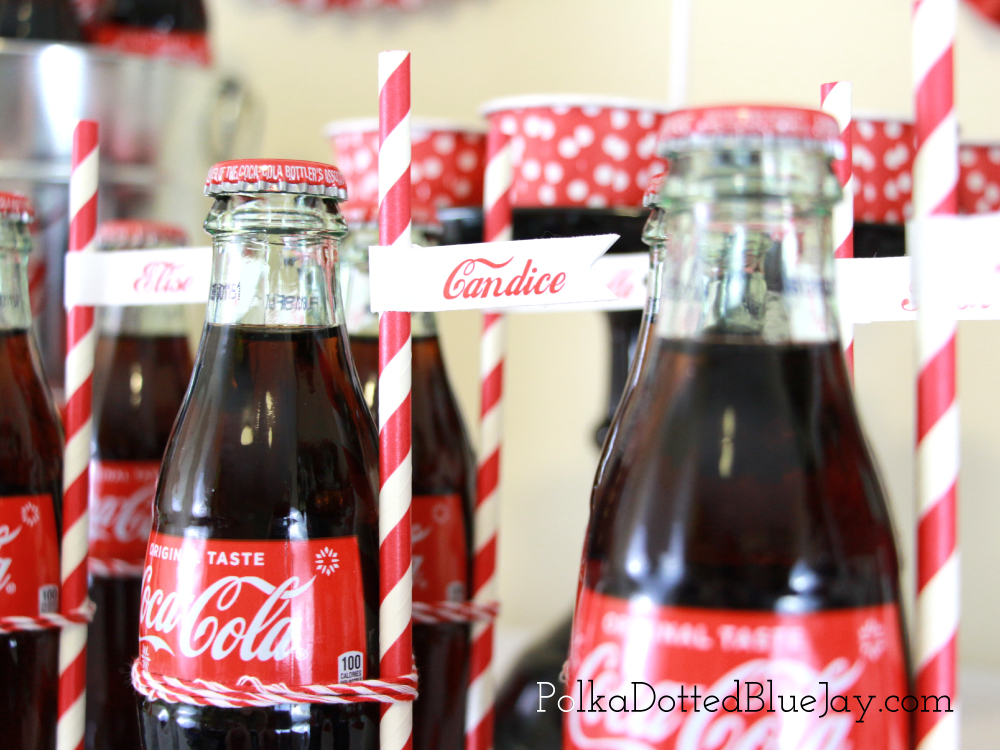 Since I knew who would be coming over to wrap presents, I decided to make simple straw flags with everyone's names. I simply typed the names, printed them on white paper, and cut out flags with notched ends. To attach to the striped paper straw, I put some double-sided tape on the inside of the flag, wrapped it around the straw and pressed the two sides together.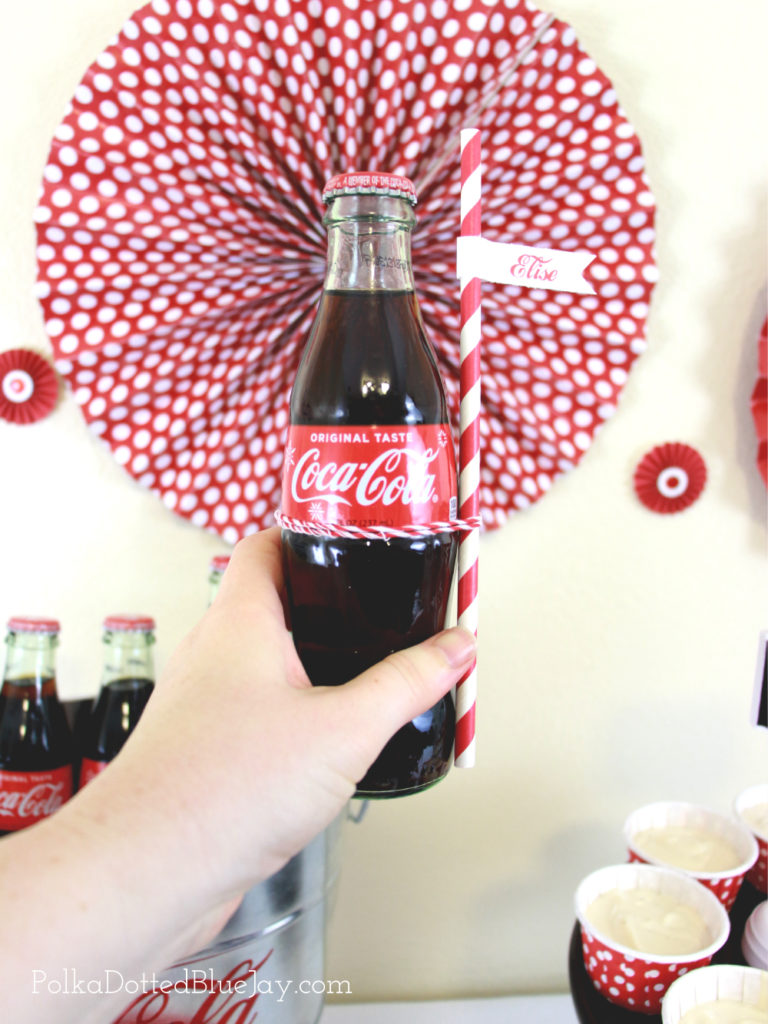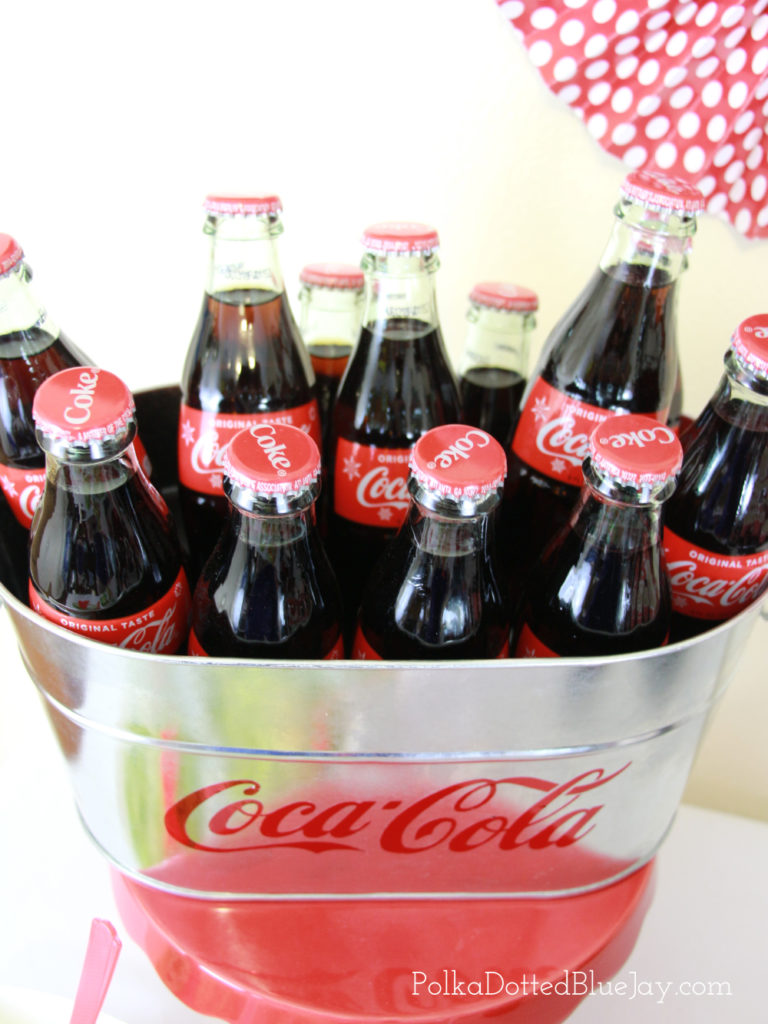 I used some red bakers twine to attach each straw to the Coca-Cola bottles. My guests could slip their straw out from the twine and we would avoid everyone mixing up their drinks during the evening. For my unexpected guests, I included straws without the flags in milk jars and plenty of extra Coca-Cola bottles in a galvanized bucket from my local craft store.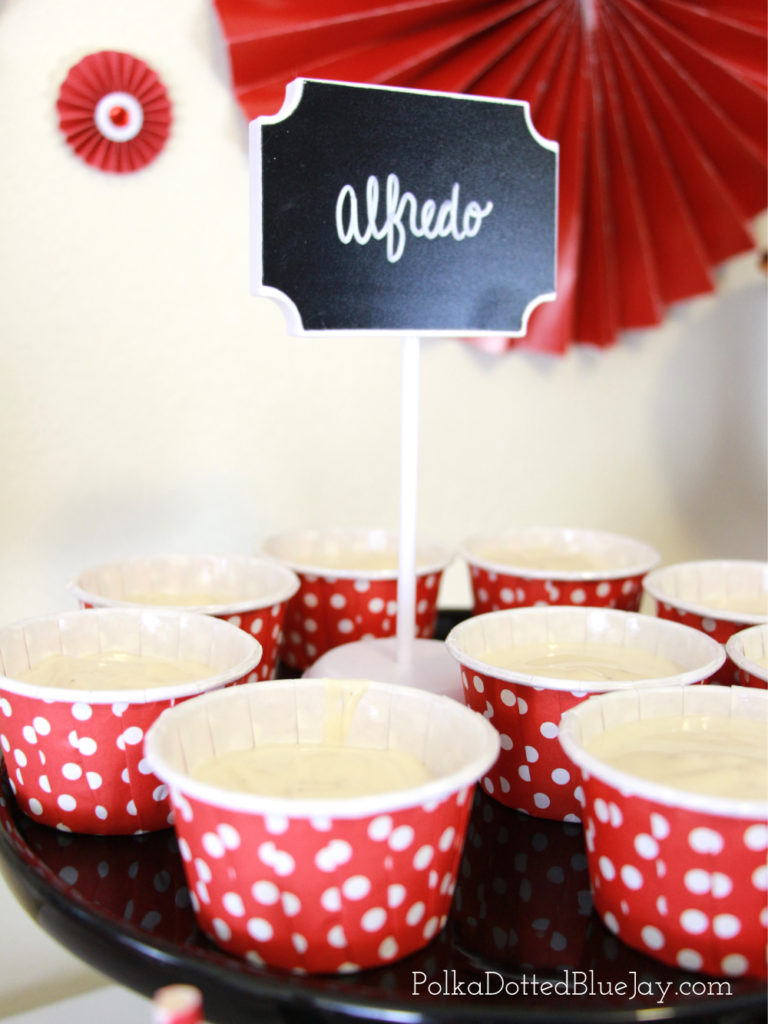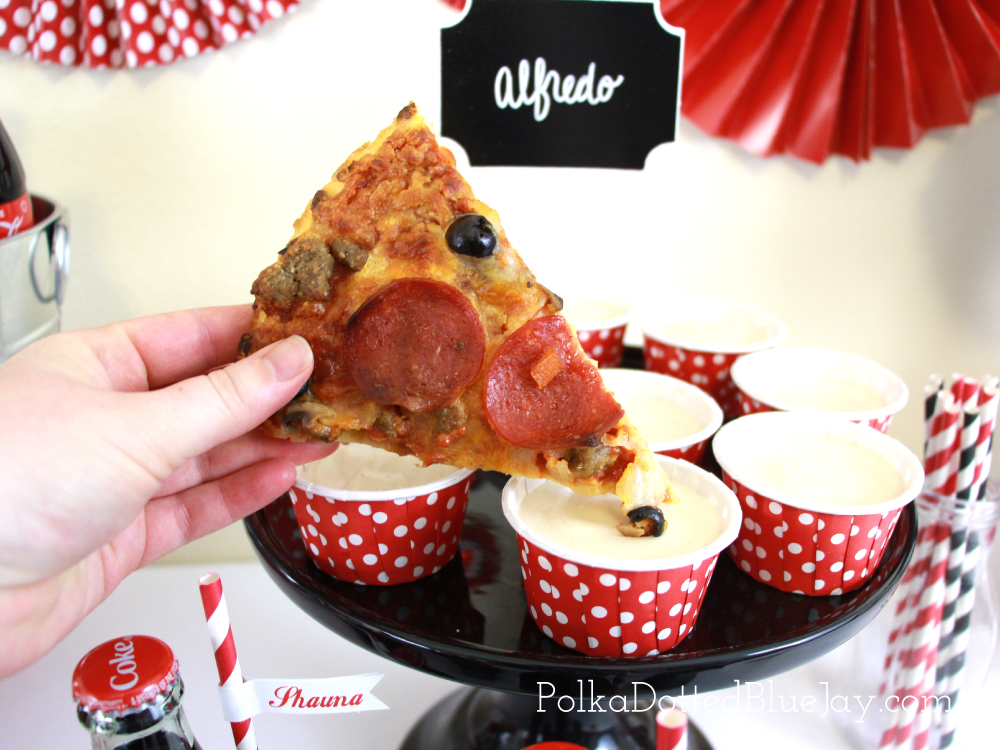 I set up a fun food table with bottles of Coca-Cola, mini green salads, Red Baron pizzas, and homemade alfredo sauce to dip our pizza into. Being able to dip my pizza crust into warm, creamy, garlic alfredo sauce is one of my favorite treats; I am a sucker for alfredo sauce in general – it is my favorite sauce. I poured my alfredo into individual-sized treat cups so all my guests could easily dip their pizza and enjoy.See the recipe below to make your own alfredo sauce:
Homemade Alfredo Dipping Sauce
Ingredients
6 Egg Yolks
1 1/2 Cup Heavy Cream
1 1/2 Cup Milk
1/2 Cup Shredded Parmesan Cheese
1/2 Cup Asiago Cheese
1/2 Cup Romano Cheese
Miced Garlic - to Taste
Black Pepper - to Taste
Instructions
Lightly beat and set egg yolks aside in large bowl
Mix all other ingredients over low heat in a medium saucepan
Add 1/2 cup of warm mixture to egg yolks until combined while mixing continuously
Add egg mixture to saucepan and warm
Add garlic and black pepper to taste
http://polkadottedbluejay.com/coca-cola-pizza-party/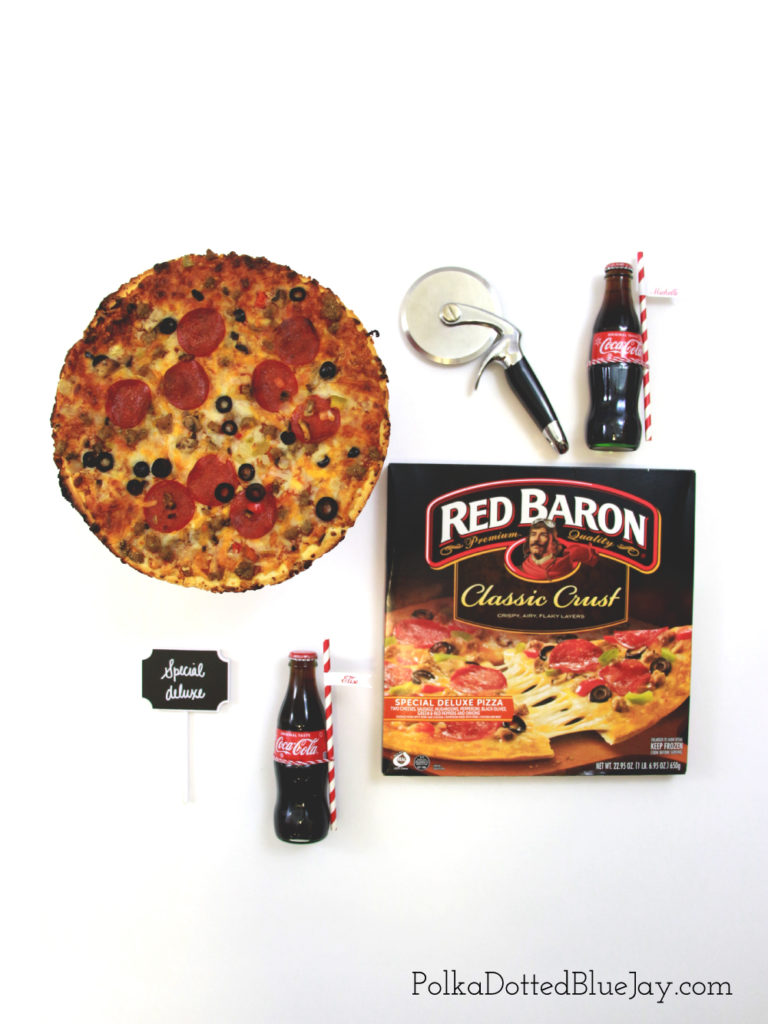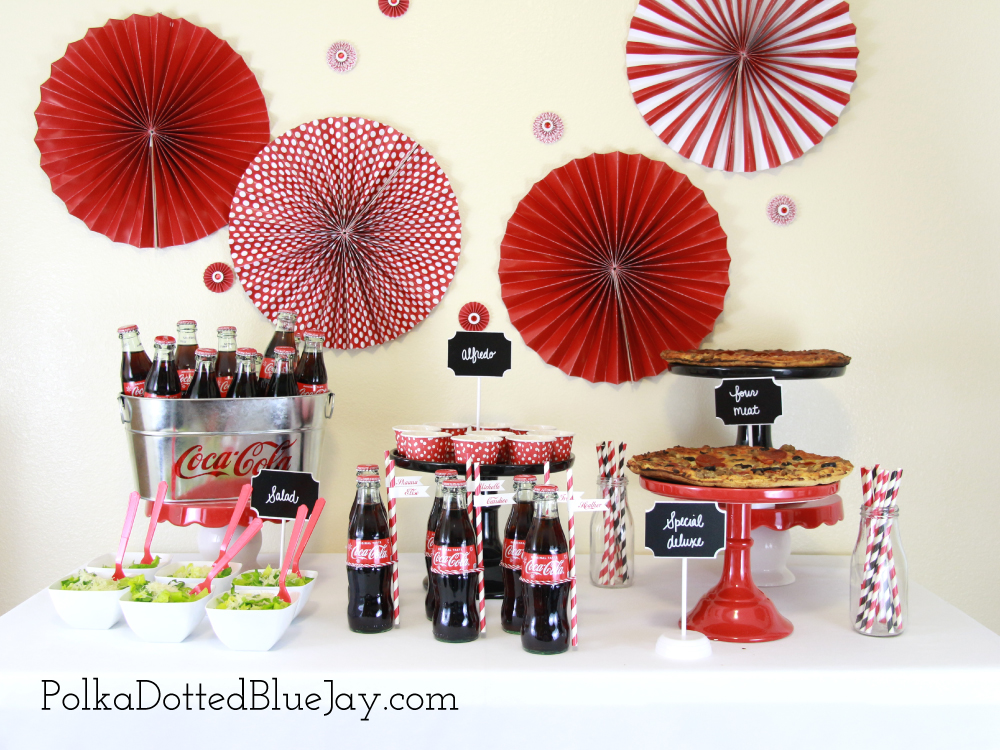 This was an easy table to set up with delicious food that didn't take long to make – and that's my kind of party. I would much rather spend time with my friends and family rather than spend hours in the kitchen cooking.
Tell me if you like to dip your pizza (and in what) in the comments below.
Please follow and like us: