Last year my niece had a Dr. Seuss themed birthday party with lots of The Cat in the Hat decorations. She was so cute and loved showing me all the cats on the party supplies; even a two-year-old knows I am a cat lady.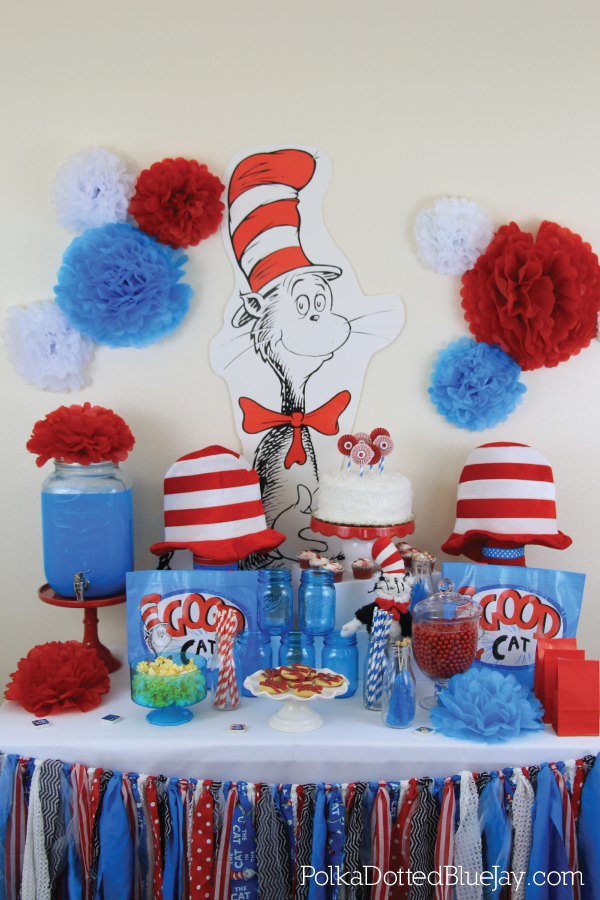 Shauna asked me if I wanted to use the leftover party decorations for a blog post and I couldn't resist the bright red and blue supplies. Everything was so cheery and I have always loved the Dr. Seuss books.
Fun fact: my Dad read Dr. Seuss as part of his toast at our wedding in 2015.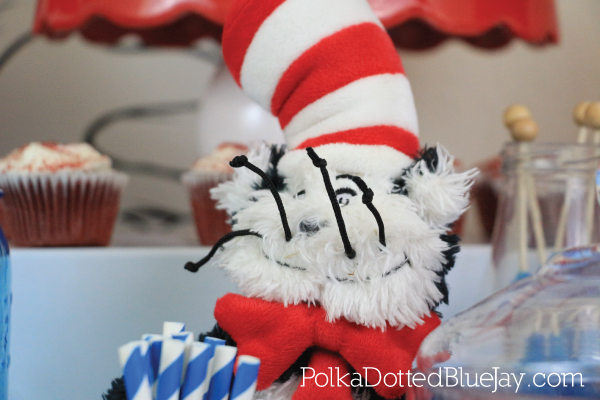 I loved being able to re-imagine the party supplies to create a Dr. Seuss themed party table since I was able to focus on just one table rather than having to spread them out across a whole room or backyard like Shauna did.
I re-used the 6-foot Cat in the Hat cutout that Shauna had used on her front door as part of my backdrop and filled in the wall with tissue paper pom poms. I bet you never thought I would use pom poms again!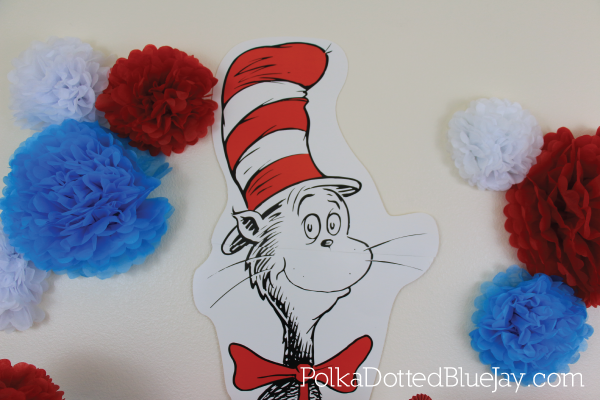 The cake topper is a DIY that I made with pinwheels and paper straws that I will be sharing on Thursday. Be sure to come back to see all the details on my whimsical topper that cost less than $4.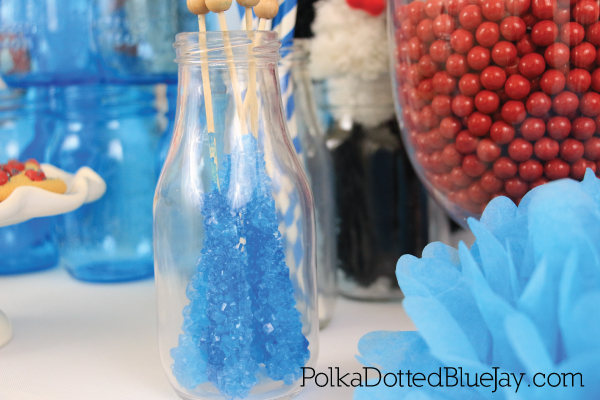 My party table was full of red and blue treats: rock candies, rec chocolates, red velvet cupcakes, and drizzled sugar cookies. One can never have too many sweets, right?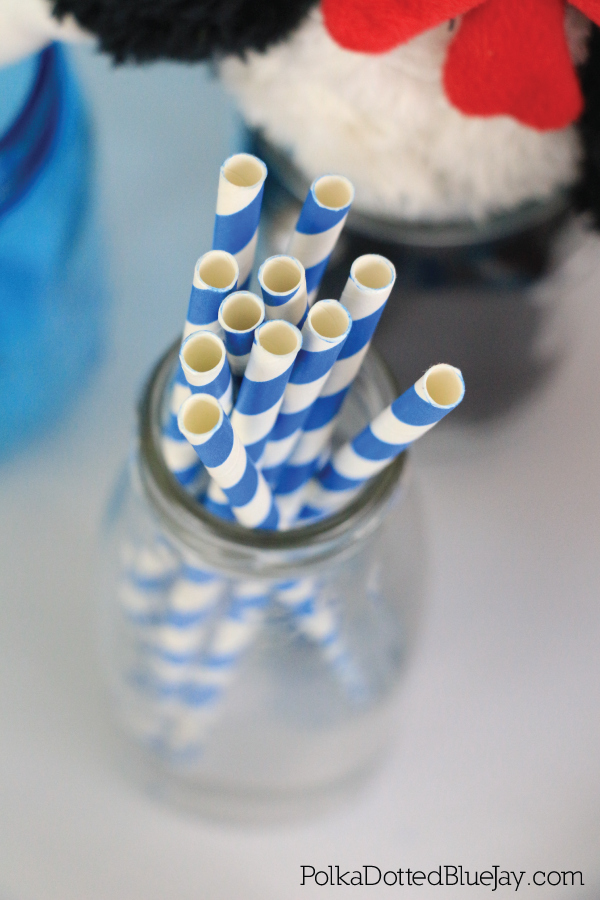 For this party, I filled my drink decanter with blue powdered drink mix that matched the blue of my party perfectly. A mason jar drink decanter is one of my party planning must-haves because it is so easy to set up and clean up after the party is over. A red pom pom on the lid was the perfect finishing touch to really make it blend in with the rest of the table.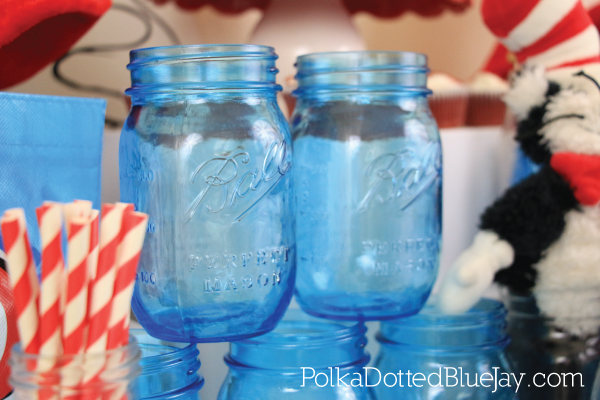 The front of the table was dressed up with a handmade fabric banner. This is an easy DIY banner project or you can buy one on Etsy pre-made.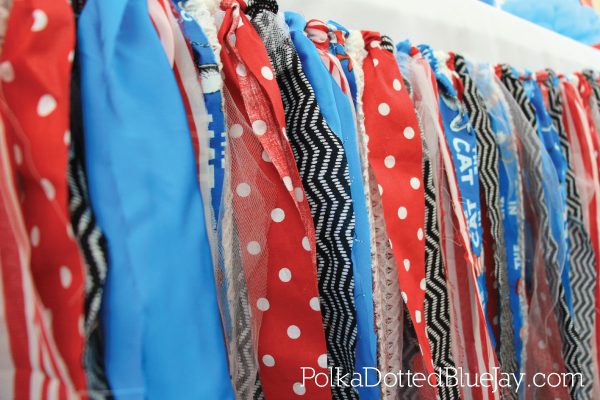 March 2nd is Read Across America Day (aka: Dr. Seuss' birthday) where teachers share Dr. Seuss books and crafts with their classes. I love that the stories I enjoyed as a child are still being shared in classrooms today.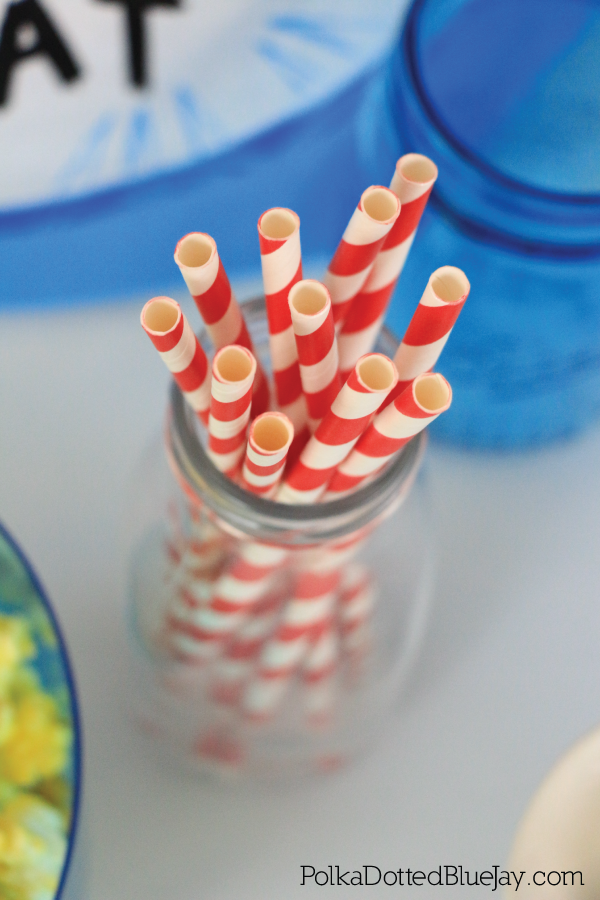 Tell me your favorite Dr. Seuss story in the comments!
Please follow and like us: