Sponsored post written by me on behalf of DaVinci Pasta. The opinions and text are all mine.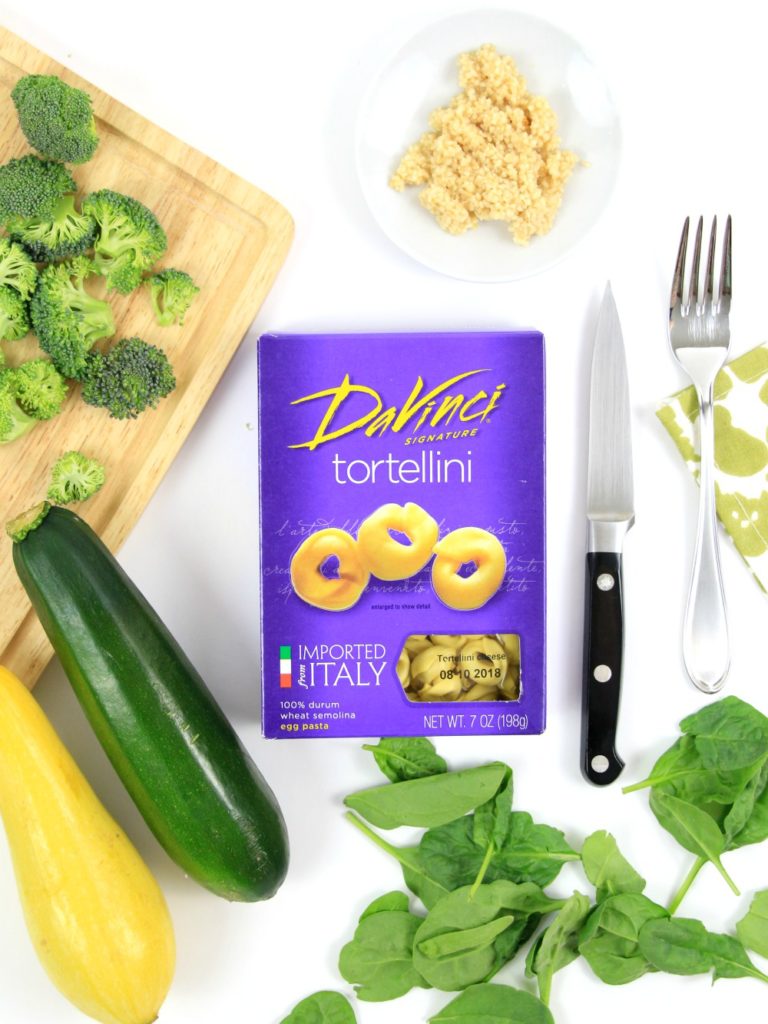 I can't believe how fast 2017 is flying by. It feels like it was just January and here we are with all the stores gearing up for the holidays – seriously though, Christmas trees in August??? It also feels like just yesterday that Houston and I went on our vacation to Italy when it has already been 3 years since our trip.
That trip was my first time being out of the county and it was a dream come true. Italy is a country that loves carbs and gelato so it was like finding my own heaven on earth. I ate pasta at least twice a day and loved every second of it. We tried new dishes in each city in the most amazing locations surrounded by fountains and beautiful landmarks. Our favorite experience was sitting on a balcony in Assisi eating pasta and watching a wedding in the town square. I mean, does it get any more perfect than that?
Back at home pasta is a staple in our house and we make something with noodles at least once a week; I left my twice-a-day pasta habit in Italy. On the top of my recipe list: Vegetable Tortellini Pasta. I still get to eat delicious pasta but my bowl is also full of a variety of vegetables; I always make an extra-large batch so we have enough for dinner and lunch the next day. You have probably realized that my sweet tooth generally reigns supreme (the cupcakes on my Instagram account are a dead giveaway) but I do try to eat as many vegetables as I can and this recipe fits the bill.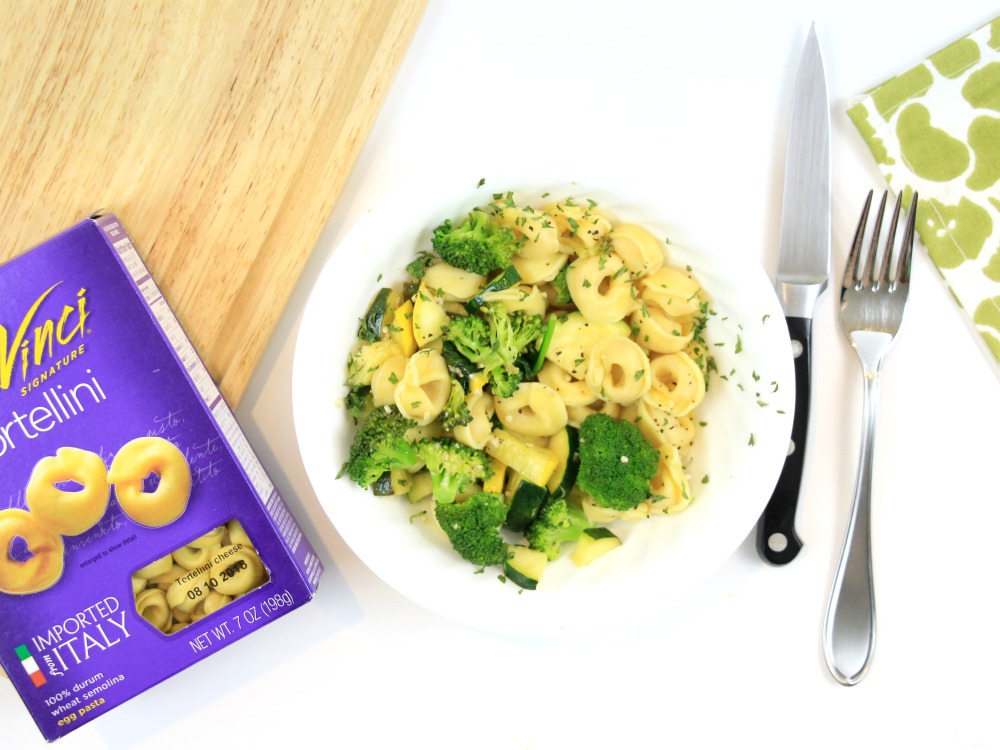 Finding vegetable dishes that I like is no small task for this notoriously picky eater and when I find one that I really like, I tend to make it over and over again. This recipe has the ability to incorporate a variety of vegetables using what we already have in the refrigerator or what is in season at the store. Feel free to mix it up using the vegetables you love.
I use the DaVinci Tortellini to give my recipe that Italian pasta flavor I crave. DaVinci Pasta is made in Italy with the finest ingredients but available at your local store; no international flight or passport required. I love pasta that tastes home-made without having to do all the work myself. I also love the delicious recipes I find on the DaVinci Facebook page.
The vegetable and DaVinci Tortellini are easy to cook and I can have dinner on the table in less than 30minutes; always a win in my book after a long day at the office. I just get my pasta water boiling while I chop the vegetables and then get to cooking.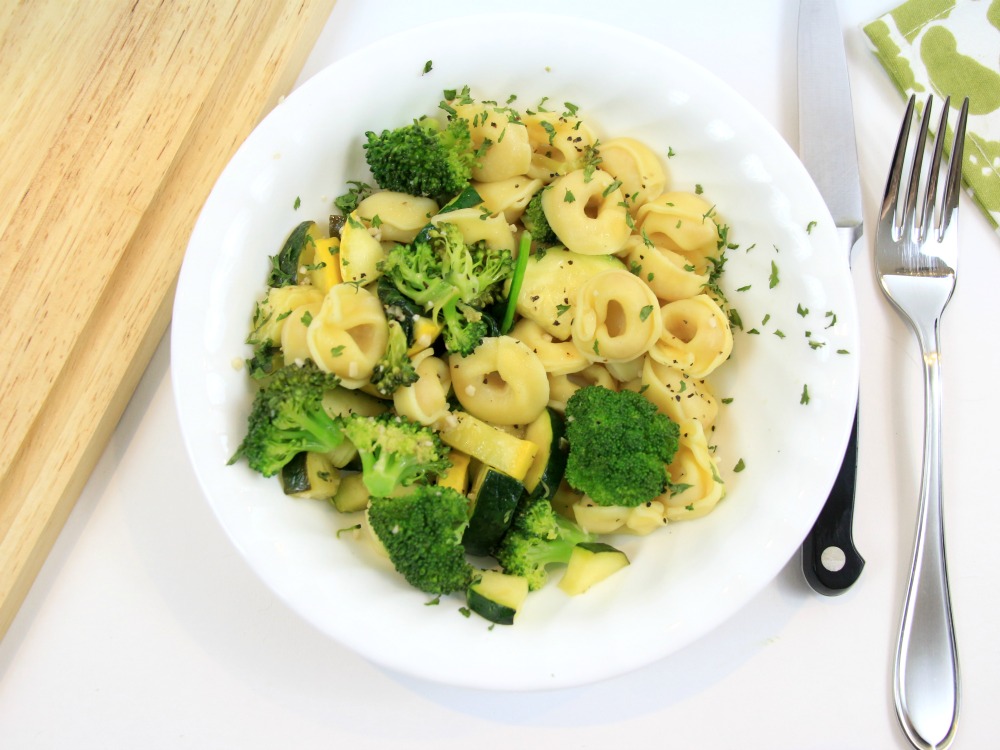 Along with my love for pasta, I also have a healthy relationship with minced garlic; it is such a delicious addition to any pasta dish and this recipe uses plenty of garlic too. It tastes great with the olive oil and adds some flavor to all my green vegetables without having to add a bunch of salt.
Now onto the recipe:
Vegetable Tortellini Pasta
Ingredients
1 Cup Spinach
2 Cups Broccoli
3 Cups Diced Squash (Yellow and Green)
1 1/2 Tablespoon Minced Garlic
2 Tablespoons Olive Oil
DaVinci Tortellini
Salt and Pepper to Taste
Parsley Flakes for Garnish
Instructions
Prep:

Bring pasta water to a boil in a large pot
Dice squash
Rinse spinach and broccoli

Vegetables:

Heat olive oil in a large pan or wok and add minced garlic
Add vegetables

Pasta:

Add DaVinci Tortellini to boiling water and prepare according to the directions on the packaging.
Drain water when cooked.

Combine:

Gently add the DaVinci Tortellini to the vegetables.
Add salt and pepper to taste.
Garnish with parsley flaskes.
Enjoy!
Notes
Add crushed red pepper flakes for even more flavor!
http://polkadottedbluejay.com/vegetable-tortellini-pasta/
Now that is what I call an easy and mouthwatering recipe. The prep and cooking time is short enough to be able to cook it in the evening after work or cook up a big batch on the weekend for the upcoming work week.
I'd love to hear what you think of this Vegetable Tortellini Pasta recipe and what your favorite vegetables you use in your dish. Be sure to leave a comment and tag #PDBJayFood on social media and check out @DaVinciPasta on Facebook, Twitter, and Instagram.
Please follow and like us: